Includes:
Discover the Stockholm countryside through outdoor nature experiences
Hike with a picnic in the wilderness
Kayak in an exciting lake system
Cycle through Sweden's history
Taste Swedish food culture
Pick berries and mushrooms
Listen to and see the wild birds and animals
Stay in comfort for four nights at a small living ecological Swedish farm with animals
Experience silence, tranquillity, clean air and relaxation
5 days, 4 nights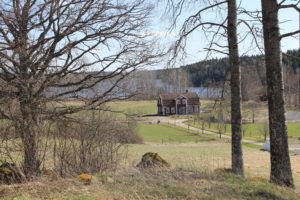 Price 12,900 SEK/person
Book here
Day 1: Welcome day
You arrive in Rocklösa and at your accommodation in the afternoon and are welcomed by your hostess Lena. After checking in you will be served typical Swedish 'fika' and
given a tour of the farm on which Lena will talk about the animals and how the farm produces meat and eggs on the animals' terms. Lena also shows the farm shop where products from the farm and other food producers in Sörmland are sold.
Weather permitting, dinner will be served on the raft down by the lake. In May, the dinner is inspired by Swedish Midsummer, and we serve a typical Midsummer buffer with a range of small dishes, many including fish. In September, the dinner is instead inspired by the Swedish crayfish party.
Day 2: Cycle tour through Swedish history and glass-blowing
After a tasty, locally produced breakfast, we get everyone's mountain bike ready for the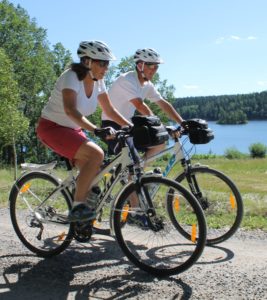 day's adventure in Åkers Bergslag. You will be given a physical map with many suggestions for nice places to stop and a cycle navigator with a route set up that will take you easily through the landscape. The day's stage is 35 km and the whole tour is on gravel roads.
After cycling for 13 km, you will arrive at Skeppsta Glassworks where you'll be met by the skilful and well-known glass artist Ebba von Wachenfeldt. Ebba will talk about the glass and after an introduction and demonstration, everyone can try this fun but difficult art. Every participant gets to blow a glass marble. Afterwards you can enjoy and be fascinated by all the beautiful objects in the glass shop.
The cycle tour continues and you choose your own pace and how long your stops
should be. You will now go into an area that has been very important to Sweden's success over the centuries. There are lots of mines and other historic traces and different kinds of old buildings.
You can end the day with a dip in the old millpond before returning to Rocklösa.
Dinner is served outdoors and cooked together over an open fire in the middle of one of the farm's beautiful oak pastures.
Day 3: Wilderness walk
After breakfast, it's time to pack your picnic and then, together with your guide, be transported to Sweden's longest footpath. The Sörmlandsleden trail is a total of 110 km,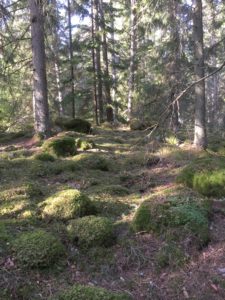 and during the day you will walk two of the 100 stages. The day's stages go through genuine wilderness on beaten tracks in nature and over many wetland areas with footbridges. The guide will show you the way along the path so no one gets lost. The day's tour will also reveal some of Sweden's history and offer fantastic nature experiences with great opportunities to hear and meet wild birds and animals, experience wonderful views and an opportunity to swim in one of the seven lakes you will pass during the day. The day's stage is 22 km.
Back at Rocklösa, a sauna and rest can be nice before the dinner is served. Dinner will be served with wild ingredients from the forest and land and enjoyed in the dining hall or out on the big terrace with views of the lake.
Day 4: Kayaking on scenic lakes
After breakfast, it's time for the next adventure: paddling Canadian canoes. You will get a picnic consisting of hot dogs with bread and accompaniments – a typical Swedish meal for an outing cooked over an open fire. You will find many barbecue places on the
day's canoe tour.
Marvikarna is a series of long narrow rift valley lakes surrounded by dramatic precipices. They were created in a system of narrow rift valleys. During the Viking Age, when the water level was higher, the lake system was a busy waterway. Here you can enjoy silent, peaceful lakes without motorboat traffic.
After a 30-minute car journey to the day's lake system, you will be met by Sörmland's canoe king, Johan. Johan will help you and go through everything you need to know to get as much as possible out of the day. Learning to paddle a Canadian canoe is not difficult and no experience is necessary. You will also borrow a map and route description.
At Rocklösa we serve our farewell dinner, which includes a starter, main course and dessert.
Day 5: Farewell
Before breakfast we open the farm shop for those who want the chance to buy some of the farm's products, game, marmalade, cheese, sheepskin, etc.
After breakfast, it's time to pack up and say goodbye for this time.
Accommodation
Rocklösa Gård – an organic farm built in a location dating back from the Old Stone Age – is located in a scenic location in the heart of Sörmland. You will stay in double rooms
in the farm's large guesthouse. It is a very relaxing place with nature outside the door. 'A real idyll' as our guests often say. Ethical animal husbandry, biological diversity, quality and sustainability permeate the work on the farm. The farm has cows, horses, goat kids, hens and ducks.
The guesthouse has a dining room, large areas for socialising, a stove and a terrace of over 100 m². Guests share three toilets and three showers. These are located on the same floor as the accommodation. The house also has a sauna.
If you'd like your own retreat, you can instead stay in one of the farm's cottages with a bedroom/sleeping loft, bathroom, living room and kitchen. Additional cost 2000 SEK/person (accommodation for 2-4).
Lena's passion is good home-made food with influences from the forest, and wild and local ingredients. Some are produced on a small scale on the farm, and as well as eggs and meat, berries, fruit and some vegetables are grown and served to the guests.
For who:

We welcome couples, families with older children and solo travellers who want to discover nature, wildlife, food culture and Sörmland's history. To join our walk, you must be able to walk on paths in uneven terrain. Recommended minimum age 15 years.
Includes:
4 nights in a double room incl. sheets 

4 breakfasts
2 picnics
1 lunch
4 dinners
Mountain bike (24 gears), cycle helmet and navigator for each group
Talk on glassblowing and blowing one ball each
Transfer to the start place for the walk
Guide for the walk
Canadian canoe for two, life jacket, route description
Transfer to and from the canoeing
Add-ons
Cottage for 2-4 persons 2000 SEK/person
Single room supplement 1000 SEK
Extra night's accommodation with breakfast 550 SEK/person in a double room
Transfer from bus in Stjärnhov 100 SEK/person
Dates
27 May–31 May 2019
2 Sept–6 Sept 2019
4 May – 8 May 2020
31 Aug – 4 Sept 2020
Small groups 2 – 10 persons
Contact and booking

E-mail: lena@rocklosa.se
Phone: +46705501149
Book here
How to get to Rocklösa
Fly to Skavsta Airport, Nyköping (55 min to Rocklösa by car)
Bus Skavsta–Stjärnhov (approx. 3 hours)
Fly to Arlanda Airport, Stockholm (min 1 hour 50 minutes by car)
Train from southern Sweden, changing in Linköping for Flen
Bus 589 Flen–Stjärnhov
Book collection in Stjärnhov
Train from Stockholm, commuter or regional train to Gnesta
Bus 589 Gnesta–Stjärnhov
Book collection in Stjärnhov
Bookings and cancellations
When you book this tour, our team will manually review the booking to make sure we still have availability. If everything is fine, we will send you a confirmation by email within 24 hours. No payment or charges will be made until your booking is confirmed. When your booking is confirmed we will ask for a 25% deposit. This deposit is due within 7 days of the booking being made. The remaining payment is due 45 days before the tour starts.
Cancellations can be made at no cost up to 7 days from the time of booking. We will give a 100% refund.
Cancellations between 8 days of the time of booking and 46 days before arrival will be charged at 25% of the booking total.
Cancellations between 45 days and 15 days before arrival will be charged at 75% of the booking total.
Cancellations within 14 days of arrival will be charged at 100% of the booking total.